Uncategorized
So, my meat-loving friends out there, the title of this post probably just made you roll your eyes, huh? I know because I totally rolled my eyes at myself while typing it. I'll be honest, making tofu sound appealing, especially when all you have to work with is numbers and letters, is no easy feat. Sucking as much as I do at food photography certainly doesn't help. However, tofu happens to have the potential to be delicious—and healthy, offering up protein and calcium while also being low in fat (saturated fat, in particular).
For those of us born with an "earthy" tooth (which sometimes goes hand-in-hand with the mushroom/umami tooth), it seems perfectly logical to crave tofu on occasion. Like mushrooms, tofu takes on the flavor of whatever you cook and serve it with, so it helps to keep that in mind when figuring out what the hell to do with it.
While cleaning out old photo files, I found myself salivating over some of the tofu dishes I'd prepared in years past. Consider the source, obviously. As a flexitarian-friendly dietitian, I'm probably more likely than some to go, "I want to put that weird, white block of soy in my mouth," but hey.
Ingredients: 
2 tbsp blackstrap molasses
1 tbsp olive oil
1 tbsp soy sauce
1 tsp ground ginger
1 tsp garlic powder or 1 garlic clove, minced
1 block extra-firm tofu
Directions: 
Preheat oven to 400 degrees F. Wrap tofu in a small towel (paper towel is fine) to squeeze out excess moisture. Cut into cubes and place in a medium-sized bowl.
Whisk together molasses, olive oil, soy sauce,and spices. Pour over tofu and toss well.
Spread tofu on a foil-lined baking sheet and cook until crispy on the outside,  about 40-45 minutes. Stir occasionally to prevent sticking.
Enjoy hot or cold with whatever you damn well please.
Do you like tofu? If yes, what's your favorite way to eat it? 
Anyone else relieved we're halfway through February—and thus, another month of winter?
Despite the snow, I can't complain so far about this winter. I also actually had the first enjoyable (aka conflict-free) Valentines Day I can recall since, well, ever. After an amazing, headache-clearing massage, I spent the afternoon working in my favorite coffee shop before meeting up with a girlfriend for a glass of wine.
There was a lady at the bar teaching her clueless man-friend how to eat oysters. It kind of made my night.
I've been working a lot of Saturdays at the hospital, so a mellow Friday evening with an early  bedtime suited me just fine. Besides, full moons make me tired.
Speaking of full moons, have you heard about the lunar/werewolf diet yet? Or excuse me, Moon Diet. Though I can get on board with the idea that our bodies might be more inclined to retain—or get rid of—water during a particular phase of the moon, I don't really see why fasting is necessary. You could do just as well being mindful of sodium intake and filling your plate with bloat-fighting foods that are rich in potassium. Also, losing 6 pounds (of water weight that you'll probably just gain back) in 24 hours isn't exactly healthy. Just my professional opinion, of course…
Anyway, happy weekend.
How did you spend Valentines Day? What's the craziest diet you've ever heard of? 
Rather than post a chocolate recipe for two with witty little comments about having better things to do than the dishes, I thought I'd just share a few random good things on this Valentines Day.
Like this virtual Valentine from Women's Health: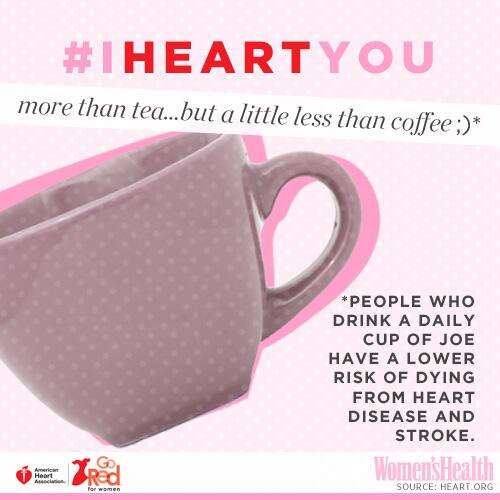 (I don't want to admit that yesterday's monster headache was likely related to inadequate caffeination in the setting of intense weather, but what can I say? #addicted)
10 Creative Ways to Eat More Beets.
The Getty Images "Lean In" Collection. As one of my Facebook friends put it, "Surprisingly awesome."
This hilarious Serious Eats post debunking aphrodisiac food myths.
What it sounds like when a foodie and a non-foodie have a meal together. I think my favorite part is the description of the Sangiovese. I want to sip an adulterous wine, dammit.
In the spirit of my post on 10 Ways to Love Yourself this February, I'm cashing in a Christmas gift card for a massage. This is basically all I want ever.
What are you up to this Valentines Day? 
So, remember that time I smeared avocado on my face? Eating it also happens to be pretty good for your skin.
Tuesday night, I spoke about nutrition for healthy skin at a super-fun fitness event in New Jersey, put together by a consultant from Rodan & Fields, who talked about some of their awesome products. Participants were also treated to healthy snacks and a free kickboxing class.
Here's a little cheat sheet version of what I covered at the event. Here's how to nourish your skin from the inside out!
Eat a Balanced Diet: Consume regular, balanced meals and snacks including: fruits and veggies along with lean sources of protein, legumes, nuts, seeds, whole grains and healthy fats. 
Eat the Rainbow: Pigments in fruits and vegetables such as the beta-carotene that gives carrots their brilliant orange color can also make your skin glow.
Pay Attention to Antioxidants: Antioxidants are substances that may prevent or delay cell damage caused by free radicals. Popular sources include: fruits, vegetables, red wine (and champagne!), dark chocolate, coffee, and tea.
Choose Supplements Carefully: Aim to get your vitamins and minerals from food first and use supplements to fill in any gaps (for example, iron and vitamin B12 for vegans). A few exceptions: many of us, especially in the northern states (especially in winter), would benefit from a vitamin D supplement. You might want to consider fish oil as well.
Use Sugar Sparingly: Inflammation caused by rapid sugar breakdown leads to sagging, wrinkles, and exacerbation of conditions like rosacea and acne. Sugar also deactivates the body's natural antioxidant enzymes. Save the sweet stuff for special occasions and check labels for hidden sources in processed foods.
Drink Plenty of Water: Hydrated skin is happy skin. Aim for 8 cups a day to get your glow on. Your needs may be more or less, depending on age, activity level, and other factors.
Go Easy on Alcohol: To avoid wrinkles and blotchy, tired-looking skin, stick to one drink per day for women or two for men.
Maintain a Healthy Weight: Excess weight has been linked to inflammation and related skin problems like acne, sweating, and impaired wound healing. Being underweight can cause skin dryness and a pallid appearance.
Get Enough Sleep: Aside from keeping "hunger hormones" leptin and ghrelin in check, sleep gives the body a chance to repair and regenerate tissue. Also, when we're tired, we're more prone to stress, another known skin irritant.
Know Your Triggers: Keep a food journal and note skin's appearance before and after eating to help you identify problem-foods if you suspect something is causing a reaction.
Don't Smoke: All the antioxidants in the world won't offset damage caused by the free radicals introduced to your body when you light up.
Are there any particular foods you try to include—or avoid—to keep your skin healthy? 
Good morning! How's your week so far? After spending yesterday working on a writing project, catching up on laundry, and taking care of some other day-to-day things, I'm heading into the hospital for a few hours to finish up some training and then heading out to NJ to give a presentation on nutrition and skin health as part of a fun fitness event! Typical of me, I'm more nervous about what to wear than about the presentation itself—I'm of those weirdos who likes speaking in front of big groups, even though I do blush if called on in cooking classes and the like.
Lately, I've really been digging plum oatmeal topped with tahini and honey. In the past year, this has become one of those breakfasts that I make so often, I kind of assumed I had written a recipe post. Not so, apparently. Let's remedy that.
Ingredients: 
1 cup water
1/3 cup rolled oats
1 tbsp ground flax
1 plum, sliced and chopped into small pieces
a few raisins (optional)
1/4 tsp ginger
1/4 tsp cloves
1 4 tsp cinnamon
1/4 c liquid egg whites or 1 egg (optional)
1/2 tbsp tahini
1/4 – 1/2 tsp honey (or bee pollen)
Directions:
Bring water to a boil. Stir in oats, flax, plum, raisins and spices. Lower heat.
Cook ~5 minutes, stirring occasionally to prevent sticking.
When water is almost all absorbed, add the egg whites, if using, and whisk 2-3 minutes.
Cover pot with a lid for ~5 minutes.
Enjoy hot and topped with tahini and honey or bee pollen.
What's one of your favorite breakfasts? 
Good morning. Happy Monday. I've got a meatless recipe for you today.
Stuffed peppers were one of the first meals I learned to make as a college grad. They were so easy—and so cheap! For years, they were a weeknight staple, and I have no idea when and how they fell out of rotation. Until this weekend, I can safely say it had been ay least 3 years (if not longer) since I'd made them.
Go figure, it was this recipe from Self magazine that reminded me of how much I love lentil-stuffed peppers. Aside from being delicious, they're a great source of protein, fiber, and iron—the absorption of which is enhanced by the vitamin C in the pepper. I decided to put a Mediterranean-style spin on it by using a blend of spices instead of salsa. I also topped mine with goat cheese and served it with mixed greens veggies mixed with hummus. Feel free to experiment.
Ingredients:
1 halved bell pepper, cut in half and seeded
½ cup cooked lentils
¼ tsp each: oregano, rosemary, coriander, cinnamon, and cumin
1-2 tbsp crumbled goat cheese
1 large handful baby spinach
½-1 cup roasted peppers, eggplant, onion, and/or zucchini, chopped
1 tbsp hummus
Directions:
Microwave pepper halves on High for 2 minutes to soften. Set aside.
Mix lentils with spices. Divide between the pepper halves and microwave for another 2 minutes until warm. Sprinkle 1 tbsp goat cheese on top and microwave another 30 seconds or so until the cheese melts.
Place spinach in a microwave-safe bowl and wilt by cooking on High for 30-60 seconds. Add veggies and microwave another minute. Add hummus and mix well. Cook another 30-60 seconds if desired.
Pour veggies onto plate with pepper. Add the last tbsp of goat cheese if desired.
What was one of the first foods you learned to make?